We are gonna play on sleeper.app
Signup here please
ill make the league in a moment
Haven't edited any settings yet, but that's the invite to the league
Maybe tag some people that might be into it
im down for that. I want a defensive player slot
this is a democratic commision league so im not hard set on it. I like idps tho.
Multi QB league?
No to multi-QBs and IDP for me. Unless we're doing a full starting defensive team.
I draft the entire LA rams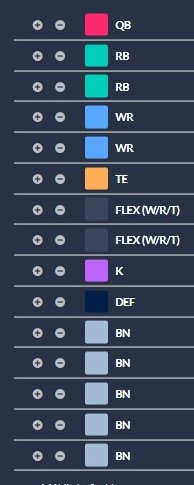 thats what its at currently
super flex with a QB slot would be prime thoooo
I don't like penalizing QBs for sacks btw.
Missing Position
FLEX (W/R)
FLEX (W/T)
FLEX (Q/W/R/T)
FLEX (IDP)
DL
LB
DB
those are the addable positions
how many points per passing/rushing
also do we want defenses to go negative or nah
I'm not gonna put up a stink about the sacks thing but it's a personal pet peeve lol.
I'd say standard rates for passing/rushing/receiving yards, defenses can go negative but be generous with points/yards allowed
as a vikes fan, trust me im not a fan of the qb sack thing